January 31st, 2018
Before I had a child, I took my free time for granted. Yes, I was busy, but I had the freedom to do what I wanted when I wanted; to divide my time freely. Now that I am a mother of a soon to be toddler, I am realizing how difficult it is to find time to paint, My free time to do whatever I want is nearly non existent. For a productive painting session, I need a minimal of 30 minutes....preferably longer. And, I can not create a painting while watching my child. It does not work for me. Luckily, as with anything, there are always ways to do what you want to do. I have achieved this by doing the following:
1. Join a painting club! I never knew how enjoyable and relaxing it would be to join a painting club. Every week, I can leave my child with my husband, escape for two hours and paint with other art loving folk. Most of them are almost double my age, but it does not matter, It is fun to see the creations of others and to all be creating a painting in the same room. It is amazing how much I have achieved in just two hours a week.
2. Don't be afraid to ask someone to watch your child for a short time while you create. This occurs on a weekly basis as I attend painting club. My husband usually takes my little guy, but I'm grateful that there are people who understand that mom needs a little time to herself and are happy to take my kid for an hour or two. As long as it is not for too long, most people are happy to help.
3. Realize that you can also occasionally have mom time during your child's nap time. Normally when my little one goes to sleep, I instantly go into autopilot and begin cleaning the house, doing laundry, and the countless other things I am unable to do while my kid is awake. By dropping all the tasks one day a week during nap time, I have learned that I can accomplish a lot during these mini 1 hour sessions.

These tips are what work best for me, but by being a bit creative you can still squeeze in the hobbies you enjoy while having children. And as they grow up, they may enjoy doing your hobby with you.
January 26th, 2016
Years ago, my art teacher challenged me to pick one subject and see how many varied types of artwork I could make with it. I chose a simple spoon. To keep myself from getting bored of the simplicity of the object, I really had to stretch my imagination. 15 pieces later, I was amazed with the diversity I had created. I used various mediums, and no two pieces looked the same. I even had fun imitating the styles of other artists just to see my capabilities. It has been 15 years since this first challenge. Since I am getting back into art again after a long pause, I have decided to do this again. Only, it will all be in acrylic paint for now. The subject will be cows. I chose this particular subject, because at my next painting night, we will be painting a cow and I think it would be fun to have various cow paintings hanging around for inspiration. This adventure is going to last through the month of February....and I will see what happens next. If anyone else wants to embark on this adventure, I would love to see what you create.
January 13th, 2016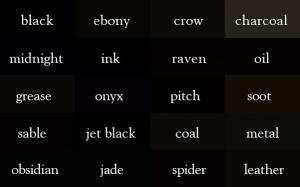 Black is a beautiful, rich color to use in your paintings, but can be a tricky color to work with. If not used properly, it can turn your realistic painting into a flat looking mess. Iíve worked with beginning artists, who easily become frustrated with this pigment and the difficulty in creating depth with it.

Whenever I use black paint, I mix it with at least one other color. Sometimes, I skip the black pigment that comes out of the tube all together and create a beautiful hue by mixing Ultramarine Blue, Burnt Umber, and a little bit of Violet. To be more traditional, you can also mix equal amounts of red, yellow, and blue together. It is amazing what you can create with these and many other combinations. I encourage anyone reading this to experiment with different variations of colors together on your palette to see what you can create.

When painting a black animal or any other object from a photo, always take the time to study how many shades and hues you can see in the black. Is it a violet-red black? Is there orange, blue, or green black? Also consider if there is any white in the black, creating a dark grey. By combining various hues of black together your painting will be richer and full of depth. It also makes viewers of your artwork want to stare at it longer.

January 9th, 2016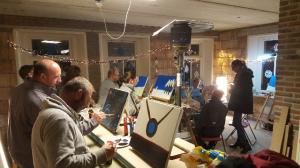 Painting with acrylic paints can be very relaxing and enjoyable. They don't cost a fortune once you have all the supplies, and you can paint just about anywhere. You don't necessarily have to be artistically talented to do it, and if you make a mistake you can easily paint over things you don't like and move on. For people who have never painted before, the first painting can be a daunting task. Making the initial investment for an easel, brushes, canvases, and paints can be intimidating if you are just trying the hobby out and are not sure if you will enjoy it. Also, I have found that some people are intimidated to begin their first painting. Some have never expressed themselves in painting and It is a new and uncharted territory. The solution is to hold a painting night. During painting nights, beginners are in a fun and supportive atmosphere. Knowing that there are other people in the same vote who are also painting for the first time and knowing that there is an instructor who can assist when needed is a comforting experience.

I recently moved to the Netherlands and decided to share my joy of painting with others in a fun atmosphere, where they could explore their creative side. The house my husband and I are currently building is partially finished, so I made a studio in the unfinished front room. Charging a small fee of 25 euros, people had access to easels, instruction, paint, brushes, canvases, food, and drinks. A few of the class members were nervous and doubtful that they could create anything artistic. Surprisingly to them, they created beautiful pieces of artwork. This was a fun class to hold, and I enjoyed seeing the smiles on everyone's faces as they attempted the painting that was demonstrated or painted anything else that inspired them. I will definitely hold a painting night again.